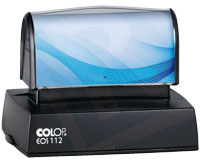 Remember, when you re-ink your flash-style self inking stamp you must use the correct ink.
NEVER put water-based inks in a flash stamp.  All flash-stamps take oil based inks.  And as we all know oil and water don't mix.
It is best to match the brand of stamp with it's own ink, since other brands might not be compatible and could damage your stamp.
Most of these style stamps have access ports under the handle.  You may have to pull quite hard to get the handle to release.  Don't worry, this is normal.   Remove the handle and add drops of ink into the refill holes. If there are 2 ports, divide the ink evenly between each side.
Apply the ink in DROPS.  Do not allow the ink to free run in to the ports.  This will make the ink overflow and create a mess.  The ink can be cleaned with rubbing alcohol if caught early but it may stain.
Replace the handle and allow to sit for 5 minutes.
Always keep the bottom cap on your flash stamp when you are not using it.
The imprint area is always exposed and could print when you don't want it to if you accidentally press down on the handle.  The cap is also there to keep the stamp surface clean.
You can order your
flash-style stamps here.