Rubber Stamps come in many styles, shapes and sizes.  Use the images below to help you find the right product for your application.
If you need help with your selection, please contact us using the form below.
We will help you make the right choice and maybe even offer some alternatives that you haven't considered.
If you have a self inking rubber stamp that just needs updating (where possible) you can order replacement dieplates here.
Need to learn how to re-ink and take the ink pads out of your self inking stamp?  See a video tutorial here.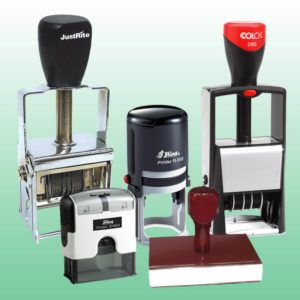 If you have any questions about the items above, please fill in the form below
and we will get back to you to discuss how we can help.
Let us know how we can help you!
Give us your contact info in the form to the right and we'll get back to you within 24 hours.
Be sure to let us know what you're looking for.