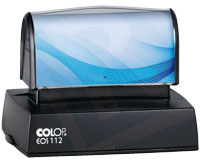 Product Availability Update

Due to unforeseen changes to our industry, the Colop 2000 Plus and Justrite products may be unavailable
to the North American market.
At this time we are unsure if this is a permanent issue or just temporary.
Therefore the Flash Style stamps are not available at this time.
We apologize for any inconvenience this may cause but the situation is not in our hands.
Flash style stamps are great for those times when you need an oversized self inking imprint without the extra strength of an extreme duty stamp. These units are re-inkable and come with a protective bottom cap to prevent accidental imprints. 
What's the difference between flash stamps and regular self inking stamps?  In a flash-style self inking stamp the ink pad is totally enclosed and is reinked through access holes under the cap.  The dieplate (your custom info) appears as a flat film and does not flip around to make the imprint.  The stamp only travels about 1/4″ from its rest position to meet the surface you want to mark. 
PLEASE REMEMBER:  Flash stamps use an oil-based ink rather than the water-based inks that are used in traditional self inking stamps where the inside plate flips over.  If you mix these inks you will damage your stamps.  Once mixed you can not repair the stamps.  They must be replaced.  If you have any doubts about which ink to use please contact us BEFORE you reink your stamp.
NEVER USE 'FLASH' REFILL INK IN A REGULAR SELF INKING STAMP AND NEVER USE 'REGULAR' REFILL INK IN A FLASH STAMP!!
Make your selection from the items below to be taken to the order form.
Let us know how we can help you!
Give us your contact info in the form to the right and we'll get back to you within 24 hours.
Be sure to let us know what you're looking for.